What kinds of artwork can I use in my Storytellers Vault products?
The artwork (such as illustrations or maps) that you include in your title does not become part of the Storytellers Vault content that other Storytellers Vault contributors can then use.. Here is general advice for these types of artwork:
Art provided by White Wolf. The art you find in the Resources for Storytellers Vault Creators category is owned by White Wolf and can be freely used in your Storytellers Vault titles. No other artwork from White Wolf can be used — only the art specifically released for Storytellers Vault Creators.

Public Domain Art. Art that is in the public domain can be used, but it must be listed in the credits.

Stock Art. You may not use any pieces of art that you do not have all the rights to in perpetuity and cannot transfer ownership of. Storytellers Vault Resources category on DriveThruRPG is not considered stock art for these purposes.

Commissioned Art.  You must have all the rights to the art in your project. Commissioned artwork may have not been previously used for any other IP that is not a part of the Storytellers Vault.

Creative Commons. You may not use artwork under a Creative Commons licence at this time.



What logos are required and allowed on my Storytellers Vault product?
You are required to use the Storytellers Vault logo on the cover of any product and on the display image used to represent it: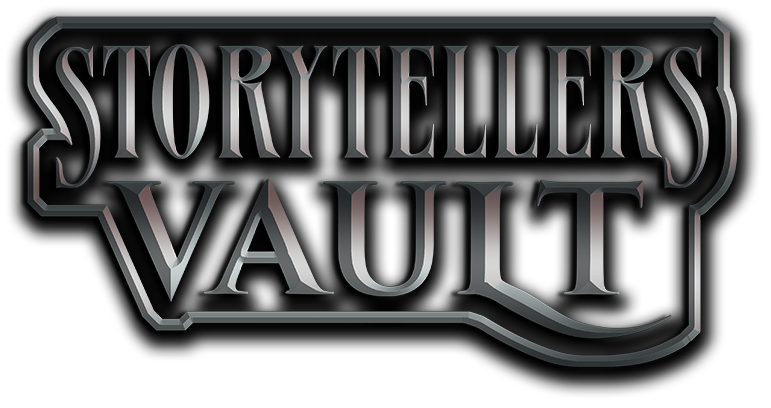 You may not use the Vampire: The Masquerade logo or any other game line logo as part of your RPG product title; you may, however, use the game lines titles for asset packs such as art and similar additional material.
Naming of product titles should not confuse the audience by trying to mimic the primary naming convention of a White Wolf game line. For example: The Vampires Companion would be ok, but Vampires: The Companion would not be allowed.  We reserve the right to have content creators change the name of a title we believe would cause confusion on this issue.
For example, you may not use the Vampire: The Masquerade logo on a city by night sourcebook, but you may use it on a Vampire: The Masquerade costumes and weapons art pack.
Do I have to use the templates provided by White Wolf?
You are highly recommended to use White Wolf templates, but they are not a requirement.